Check out our online only promotion!
As a service to our new and existing patients, we will be offering special coupons for cleanings just for visiting our new website!

We are conveniently located three blocks west of Federal Highway (US1) on Oakland Park Blvd., on the south side of the road. For more detailed information about our location, and a generalized map check out the Location section of our site.

Quick Info:
Phone: 954-566-8701
Fax: 954-615-0416

Our Services

Cleaning | Bleaching | Bridges | Crowns | Dentures and Partial Dentures | Veneers
Having your teeth whitened is much easier than you think. We have two in office options to help you achieve that beautiful smile you've been dreaming of.
What are the details?
It's safe, quick, and inexpensive. Just let us know at any appointment that you would like to whiten your teeth and we can discuss the options with you. In many cases we can begin TODAY! We can make custom whitening trays for you in less than a week or you can begin with our professional strength Crest Whitening Strips tonight (these professional whitening strips are almost twice as strong as the whitening strips that are available in retail or discount stores).

With only a few hours of wear per day, you will be able to notice significant whitening of your teeth in a very short time. The whitening can be used to correct tooth discoloration which may be be caused by staining, aging, or chemical damage to teeth. Using the latest in whitening technology, we can offer a safe method for creating a beautiful and brilliant smile. In cases of extreme tooth discoloration, crowns or veneers may be the only choice, but with the low cost of whitening it is usually worth a try before going to these other options.

Key Benefits


Corrects brown, yellow and mottled tooth staining


Works on people of any age.


Is a near permanent solution for a "dull" smile, restoring brightness and brings a smile alive.

How is it done?
An impression is taken to make a specialized "mouthguard" or "tray" to hold the whitening gel against the teeth. If you choose the Crest Professional Strength Whitening Strips, no impression is necessary. The material is used each night for about 3-4 hours for a week or two, and by the end of this time, significant whitening will occur. In some cases, the change is nothing short of brilliant. To increase self-confidence in appearance, whitening technology allows us to offer improvements in yellowing, aging or stained teeth. For very severely stained teeth, crowns or veneers may be more appropriate.

Considerations
Over the counter whitening agents are available for purchase at drug stores and pharmacies. Sometimes, these products can cause harm to the gums and teeth. It is better and more predictably successful to use products that our practice recommends
All of your teeth play an important role in speaking, chewing and in maintaining proper alignment of other teeth. Tooth loss doesn't necessarily have to occur as you age, but if you do lose teeth, they must be replaced to maintain proper function of your mouth. Adjacent and opposing teeth immediately start to "drift and shift" when a neighbor tooth is lost. One option for correcting tooth loss is a bridge.
A bridge - a device used to replace missing teeth - attaches artificial teeth to adjacent natural teeth, called abutment teeth.
Bridges are applied by either placing crowns on the abutment teeth or by bonding the artificial teeth directly to the abutment teeth.
If you're missing one or more teeth, you may be aware of their importance to your appearance and dental health. Your teeth work together for many daily functions from eating to speaking. With missing teeth, it's difficult to do these things. Missing teeth can and should be replaced. Bridges are a great way to restore your dental health and appearance.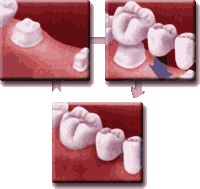 Why do I need a bridge?
Dental health is the most important reason for a bridge. Teeth were designed to complement each other. Unusual stresses are placed on the gums and other oral tissues when teeth are missing, causing a number of potentially harmful disorders.
Increased risk of gum disease has proven to be one of the worst side effects of missing teeth and can be minimized with a bridge.
Most dentistry looks like dentistry. Our goal is to provide dentistry that is undetectable. When necessary, we can remove decay or replace existing crowns and fillings with restorations that look and feel like your natural teeth.
Where damage to a person's teeth is extreme, and apparently beyond repair, we can use porcelain crowns to make the smile appear "as new". This is an extremely reliable technique for repairing the most severe of dental problems, even permanently replacing missing teeth to offer a complete smile and a functional bite. We are renowned for the quality of our work and the fantastic changes we make for people using this technology. These treatments are used for a long lasting correction of major dental problems. It is usual for these treatments to last for 15 or more years, which is as close to permanent as dental treatment can get.

How long does it take?
Fitting a crown requires at least two visits to our office. Initially, we will remove decay, shape the tooth, and fit it with a temporary crown while our dental laboratory custom fabricates the permanent crown.
We take pride in making our temporaries as comfortable, natural and durable as possible so you can go about your normal routine during the restoration process.
On the subsequent visit we will remove the temporary crown, and then fit and adjust the final crown. Finally, we will cement the crown into place and you have a new beautiful looking tooth.

Key Benefits


Offers structural support to misshaped teeth or badly broken or decayed teeth


Looks completely natural


Fixes "smile" and functional chewing problems.

What are the capabilities of crowns?
Crown and bridgework is a very reliable solution for major dental problems caused through accidents, decay, or wear and tear. Major problems can usually be corrected using these techniques. Material used in these repairs is either high-grade porcelain, or porcelain bonded to metal. The higher strength of porcelain and metal materials is recommended to treat the most serious of dental problems. Where accidental damage has occurred, resulting in lost teeth, or where teeth have broken away through excessive wear, or as the result of old fillings breaking, crowns and/or bridges can be used as a long-term solution.

Many people have unexplained pain from filled back teeth, which is usually due to hairline cracks or recurrent decay under old fillings. Placing crowns on these teeth relieves the pain and allows a return of full dental function for these teeth. In front teeth, older fillings can both weaken the teeth and cause "appearance" problems due to staining or chipping. Porcelain crowns and bridges are suitable in cases where porcelain veneers are not. In teeth with root canal fillings, crowns can prevent breakage.

Why crowns instead of fillings?
When a tooth has an old deteriorated filling or one with new decay around it, a new restoration is required. A decision needs to made; do we replace the filling with a new one, or do we place a crown?
This decision is based on the relative amount of strong, healthy tooth structure AFTER the old filling, decay and corrosion are cleaned out. If enough solid tooth is available to support a filling we choose that simpler, less involved alternative. However, if the remaining tooth is severely hollowed and "shell-like", it then needs to be protected with a restoration which protects and strengthens the weakened tooth. This will help resist further cracking or fracture, which could then cause need for root canal, gum surgery or even tooth loss.
Despite the advances of the dental profession to prevent the loss of teeth from decay and periodontal disease, it is expected that in the next 20 years the need for complete denture treatments will increase from 35.4 million in 2000 to nearly 37.9 million in 2020. Despite the decrease in tooth loss (a 10% decline for each decade for the past 30 years), there will be a 79% increase in people living in the 55 and older age group - more than enough to offset the decrease in toothlessness (edentulism). This accounts for the remarkable increase in the need for complete dentures. The need for partial dentures in patients who have lost some, but not all of their teeth is also expected to increase for similar reasons.

Complete Dentures
Natural teeth and the underlying bone provide a framework that supports the structures of the face including the lips, cheeks, and the nose. When teeth are lost the ability to eat and chew properly is impaired, and it becomes difficult to maintain a proper diet. Without support from the teeth, the face will sag creating a look of premature aging. Additionally, without teeth we cannot speak clearly and distinctly.
A complete denture replaces all of the natural teeth in the upper and lower jaw, or both, sitting on the soft (gum) tissue of the mouth that covers the bone ridge. Your prosthodontist may use several different procedures to make sure your denture will fit the shape of your mouth and provide the necessary support for the face. The design of the denture and position of the teeth will restore good speech and appearance. A prosthodontist has extensive training and experience in creating well-fitting and attractive dentures.
Over time, the gums and bone supporting the denture, will shrink causing the denture to become loose. Periodic visits are necessary to check the fit of your denture. If required, the denture can be adjust and refit. It is also important to check the overall oral health of your mouth to help ensure optimal results from your treatment.

Partial Dentures
A removable partial denture is used when there are still natural teeth left. The missing teeth are replaced by this type of denture in an effective and esthetic design using both the soft tissue ridges and teeth to hold them securely in place. This tooth replacement is removable by the patient, which makes cleaning easier. Because removable partial dentures use teeth and soft tissue for support, you may be given the opportunity to choose a variety of treatment plans. We will discuss these options after a thorough examination of your teeth, soft tissue (gums and cheeks), remaining bone and surrounding anatomy. The examination should also include x-rays (radiographs) or impressions to make models of the mouth. After reviewing all the necessary information with us, you will be able to make an informed choice.

The new teeth will look natural and are made from plastic or porcelain (ceramic) materials. The foundation of the partial denture can be plastic or a combination of plastic and metal. There are different methods used to secure the partial denture in your mouth. Metal clasps are the most common and they may or may not be visible. The denture can often be made to fit the existing shape of your teeth, or it may be necessary to alter your remaining teeth. We will indicate which design will be most appropriate for you.'
What are porcelain veneers?
Porcelain veneers are thin shells of ceramic material that bond directly to the front surfaces of your teeth. They are the perfect choice for improving your smile and are often referred to as "instant braces." They have become increasingly popular due to their simplicity and versatility.
We pay strict attention to cosmetic detail and design veneers on an individual basis to improve the characteristics of your smile.

Will they look like normal teeth?
When bonded to the teeth, the ultra-thin porcelain veneers are virtually undetectable and amazingly natural. They are highly resistant to coffee, tea, and even cigarette stains. For strength and appearance, their resemblance to healthy, white tooth enamel is unsurpassed!

How long will they last?
With proper care, porcelain veneers will brighten your smile for well over a decade.
Modesto Dental will ensure that your veneers are crafted from the highest quality porcelains and are bonded with the most advanced and proven materials available.

If you have any questions about a procedure that may not see listed on this page, please do not hesitate to call us, as we will help you to get an answer to any of your dental related questions.